So Hubby & I were shopping and reached my favorite department ...
The Craft Department
!! Love it there so much!
We were strolling down the isles looking at this and that when we saw the most adorable set of purses! They came in bright colors and 3 to a pack! DH took one look and knew they were the perfect Christmas gifts for his nieces!! He even helped me pick out the iron-on appliques to decorate them with!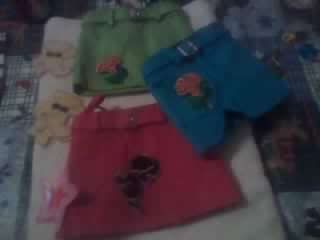 He has 3 older nieces (all the perfect age for purses) and 1 younger one, who is a little bit too young for something like that and will be getting something else. So the first thing we bought to go on them were each girl's initials.
I started on them the same night I made the
Christmas Stockings
... and well after making 4 Homemade Christmas Stockings in one sitting, I only got 1 purse finished that night! LOL But that one was important to get finished early, because it was to be mailed to Germany where Hubby's brother is stationed. I
loved
making it!! And was very pleased with how it came out!
Pink Purse ~ Front
Pink Purse ~ Back
It's an adorable color Pink and has Blue & White Flower Appliques. And a cute little ... squiggly thingy ;-)
And the Back has Pink & Blue Flowers, a Butterfly and a Puppy on the pocket! So cute!! I really think his niece is going to like it :-)
The next ones were done a day or two later, after I had had time to rest up a little. But because I waited a few days to work on them, again I thoroughly enjoyed the creative process of ... well creating something! And again, was very pleased with how they came out! One of my little boys even helped me select the appliques and decide where to place them.
Blue Purse ~ Front
I like the Bee hovering over the Flower on this one. And we cut the stem off one of the Red Flowers to make room for it.
(As you can see, while I was holding the purse in just the right place, my older son decided to sneak into the frame! Cute, isn't he?)
Blue Purse ~ Back
Here we added a Bright Sparkling Star & a Sun along with the Red Flowers. (And my younger son's "peace" sign. Sneaky little fellas, aren't they?) Again it's absolutely adorable!
And last, but most certainly not least, the final purse was completed!
Green Purse ~ Front
Green Purse ~ Back

At this point (unfortunately) my pack of 10 assorted appliques was winding down LOL But we still managed to come up with something cute & festive! Again the ... uh ... squiggly thingy ;-) and a pretty Red Flower and a Puppy! This niece loves animals too, just as the first one does.
And on the back a sweet Teddy Bear with a Green Bow Tie I just loved! We also have a lovely Butterfly, Blue & White Flowers (stemless again, thanks to our cunning scissor-know-how) And I plopped on a Bee ... Because I think he's cute! :-)
I really enjoyed making these! And I'm going to love seeing their little faces when they open them! These girls are very "girlie" and like purses where they can keep all their little "stuff" when they leave the house or are just playing at home. And they were really fun to make! It was a creative way to express myself - one I hadn't tried until this point, and I don't think it'll be my last! Yes ... I see Tote Bags and Shopping Bags and even more Purses in my future! :-)